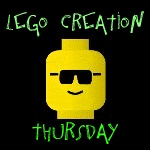 Bug has been asking to do LEGO Creation Thursday for quite some time. But it hardly works out to actually get something built, pictures taken, and a post made in time.
Today, thanks to a wonderful snow day, it happened!
His creation today is a horse-drawn carriage. It can be pulled by one or two horses as you will see.
One Horse


Two Horses
Although not at the height of creativity, it's pretty good for my Bug who usually just likes to play with the people!