In my life this week…
I was a busy beaver this week! On Wednesday morning, Bug and I went peach picking. We ended up with about 40 lbs of peaches!
Thursday, my mom came over and helped me process a bunch of them. I now have 13 quarts of beautiful, canned peaches. We've eaten a lot of peaches fresh too, but there are still a lot left over!
In our homeschool this week…
We tried to get out of the summer mindset we've gotten ourselves into. We focused on math and history. We got 3 lessons done in math and finished chapter 23 in Story of the World. We just read and then Bug narrated into my voice recorder. Then the next day I wrote out his narration, we edited it together and he copied it onto a notebooking page. It's simple and works on not only history but writing as well.
Helpful homeschooling tips or advice to share…
Network with other homeschool moms! It's so encouraging to help people with their struggles and share in their joy - plus you get someone to do the same for you!
Places we're going and people we're seeing…
Wednesday evening we went out to dinner with my mom to celebrate her retirement. Then today we headed out for park day, which turned into a whole day of friend time for Bug! I didn't get him back until 4:30 this afternoon! It made my Sabbath prep a bit easier, not having to coordinate him too!
What's not working for us…
Summer + School. I need to make notes about what went wrong this summer so that I can better prepare for next year!
Questions/thoughts I have…
Thinking about goals - how to set them for our homeschool year, what to set, how specific I should be, etc.
Things I'm working on…
Getting things ready for Bug to be gone to pre-teen camp next week!

Starting the planning process for next school year (we start in October). I spent a lot of time on Monday shopping Currclick's Pay-What-You-Want sale and downloading all those goodies. Then Tuesday I downloaded the Bible program we are going to use. I'm going to use some of my quite time this next week to get more planning done.
I'm reading…
I just finished Danger in the Shadows by Dee Henderson and now I'm starting on One Breath Away by Heather Gudenkauf
. The kiddo just started reading Hatchet by Gary Paulsen
I'm cooking…
Lots of peachy goodness. Tonight for dessert it was Paleo Peach Cobbler topped with vanilla ice cream. It was the perfect way to usher in the Sabbath!
I'm praying for…
The family & friends of a dear lady who passed away this last week. She was an amazing woman and fought so hard against cancer. She will be missed but we know we will see her again!
I rewarded my kid this week by...
Extra play time today with his friends. And lots of good words of encouragement!
Something I'm ogling or have my eye on...
Everything I'm ogling right now is school based - curriculum (Spelling Wisdom) or supplemental material (What the Bible Is All About: Bible Handbook for Kids
) and organizing supplies!
Desk Apprentice from Staples!
A photo, video, link, or quote to share…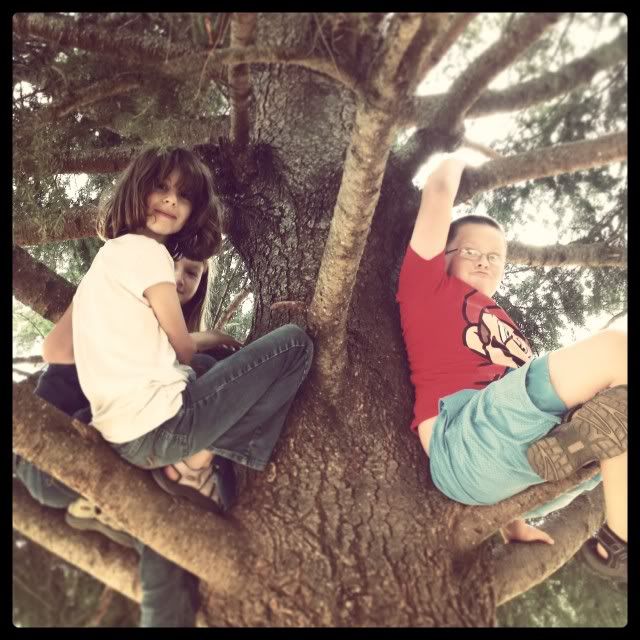 Playing in the tree @ the park! This was Bug's 'terrified' face.
See what other homeschoolers are doing this week over at:
Weird, Unsocialized Homeschoolers
So You Call Yourself a Homeschooler