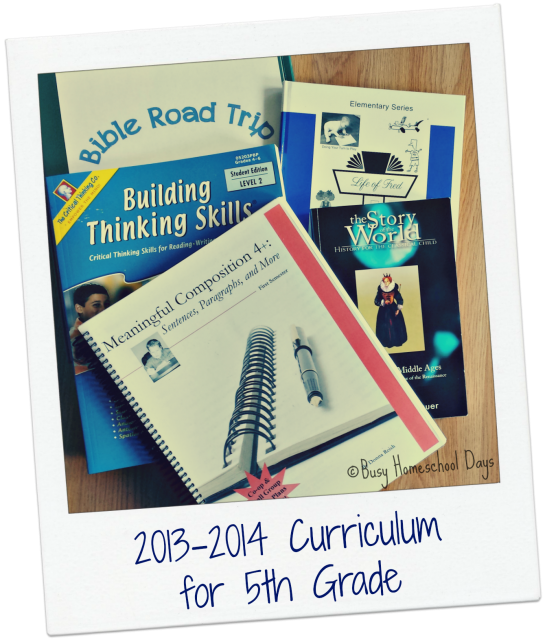 I can't believe I'm planning 5th Grade! When did the kid get so big? Wasn't it just yesterday he was a babe in my arms?
I'm still trying to make some choices for our new year, which we'll start on October 7th. Most of our choices are the same we made last year and even the year before that, just the next level or the next volume. Why change what's working? But since we are only one year away from middle school, I am doing some streamlining of some subjects and adding in some new curriculum (especially in the Language Arts department).
So here is the plan.
BIBLE
Bible Road Trip
~ I'm so excited to give this a try. It won't be too big of a change from our daily Bible reading, but it will give some much needed structure and discussion ideas.
MATH
MEP Yr 4
UPDATE
: Math is now self-paced with
Khan Academy
!
Life of Fred Elementary Series
and
Intermediate Series
~ he's currently in
Dogs
, but it's quite easy for him and I can see him blowing through the rest of Elementary and all of Intermediate by the end of next year.
HISTORY
Story of the World
~ Finish Vol 2 and on to Vol 3. We use the activity book as well as the text and add in additional reading and notebooking.
LANGUAGE ARTS
Meaningful Composition 4
~ This is new for us. We haven't done any formal writing so it's going to be an experiment using a new curriculum AND introducing a new subject.
Spelling Wisdom 1
~ Another new one. I haven't bought it yet and I'm still praying over it. So this one may change.
Historical Fiction ~ Reading will be based around our history studies. We'll do lapbooks, notebook pages or just discussion with each book.
Typing Web
SCIENCE - PHYSICS
Snap Circuits
+ Student/Teacher Guides
Bite-Sized Physics
+ Videos
LEGO Technic to teach simple machines.
*This has not been completely planned, it's just what I've been rolling around in my head so far!*
LOGIC
Building Thinking Skills Book 2
Mind Benders Book 4
So that's what I know we've got lined up. I still need to work on foreign language and nail down science. I also need to get our book list finished up. I'm looking forward to doing a lot of school planning while Bug is gone with my mom in a couple weeks! I'll have 5 days to just pray and plan. :)
Take a look at what other homeschoolers have planned for the upcoming year over at iHomeschoolNetwork! Come back next week to take a look at our 'School Room'!